---
Commercial Movers
Nationwide Relocation Services - The Largest Moving Broker in America
---
Save Yourself the Headache of Trying to Locate Skilled Commercial Movers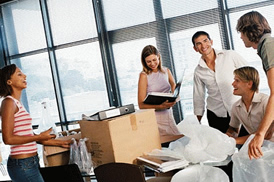 Moving an entire busy office for today's business owner is a dreadful thought. Having to pack boxes of paperwork, disconnect computers and wires, roll out the dozens of chairs, and worst of all leave employees with nothing to do, it's a business nightmare.
Thankfully, Nationwide Relocation Services understands that the faster your company is up and running, the better. We know that the last thing you want to do is lose valuable time when undergoing move. That is why, when you enlist our help, we make it our goal to find commercial movers that will reduce company down time. You can rest assured our affiliate commercial movers possess the expertise and knowledge that will diminish the impact on your company's productivity. So get your moving feat on the right track, and alleviate your worries by working with Nationwide Relocation Services.
---
For Quality Commercial Movers, Look No Further than Nationwide Relocation Services
Experience the difference on moving day by working our elite lineup of commercial moving experts who will:
Blanket wrapping to ensure the full protection of office furniture
Fully secured, temperature controlled storage units for your possessions
Disconnection and reinstallation of all office computers, printers, and fax machines, etc.
---
We Are Devoted to Finding You the Finest Commercial Movers in the Moving Industry
Making sure that your business relocation runs smoothly on moving day can be simple, if you have that time to maintain a detailed checklist, track every employee, and still manage to keep the spending to a minimum. But why bother with all that work, when you don't have to? By enlisting the help of Nationwide Relocation Services, we take care of everything for you. We pre-screened all of the carriers in our extensive roster to ensure that you will be working with licensed and insured professionals. Not only do we do the all of the legwork of finding reputable commercial movers for you, but when you trust in our affordable services, you stand to gain savings up to 70% off your relocation. So what better way to stick to your company's budget than to work with our affiliate commercial movers? Don't waste anymore time, and let us find you the right movers, so you can tend to your busy schedule.
When you call 888.219.7171, you will speak to one of our friendly moving coordinator who won't hesitate to provide you with excellent customer care. Call us today!